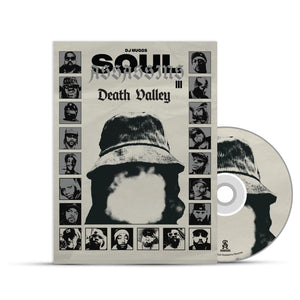 SOUL ASSASSINS 3 - DEATH VALLEY - ALTERNATE COVER DELUXE CD
Soul Assassins
Regular price $30.00 Sale
. 
SOUL ASSASSINS 3: DEATH VALLEY
1. The Time Has Come  
2. It's On ft. Boldy James 
3. Check In (Original Version) ft. Jay Worthy 
4. Sicilian Gold ft. Ghostface Killah & Westside Gunn
5. 67 Keys ft. Roc Marciano, Rome Streetz & Meyhem Lauren
6. Mr. Cartoon Interlude
7. Jokers Wild ft. CeeLo Green
8. Shell Casings ft. T.F
9. Street Made ft. Scarface & Freddie Gibbs
10. Where We At ft. Boldy James 
11. We Ain't Playing ft. Jay Worthy, 2 Eleven, T.F & Devin The Dude
12. Burn The Playbook ft. Evidence & Domo Genesis
13. Majik
14. Crazy Horse ft. Roc Marciano & Crimeapple
15. Metropolis ft. Method Man & Slick Rick
16. We Coming For The Safe ft. Boldy James 
17. Skeleton Bones ft. Rome Streetz
18. Dump On Em ft. B-Real, MC Ren & Ice Cube
19. Outro
---
This is a Pre-Order Item. CDs will ship 4-6 weeks If ordered with other items, the entire order will be held until all items are available to ship.
Due to Covid 19 restrictions there may be unforeseen delays in shipments*
These are available Exclusively at www.SoulAssassins.com